Trophies are not merely awarded to sports events. There are various events and celebrations, which these trophies can be awarded to. On one hand, there are numerous kinds of trophies and awards nowadays that many trophies store are creating. With so many companies that create trophies and awards these days, these companies tend to experiment with great designs suitable for metal, wood, acrylic, crystal and glass trophies.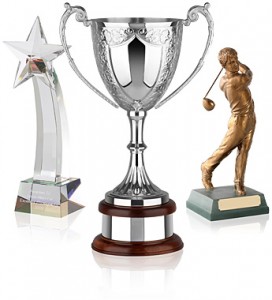 Here is a list of events, which trophies are used and awarded for:
Sports and Athletic Events
Basically, trophies are used to recognize and congratulate the three primary winners of a particular sports event. Depending on the type of sport, the trophy is uniquely designed. Like in a basketball game, the trophy is usually in the shape of a "basketball" or a "basketball player". Although, some trophies are in the form of bowls, cups or mugs.
Academic Awards
Indeed, even students who excel in their school are being recognized for their hard work and achievements. Although, the object awards mostly given in schools are in the form of medals, trophies are likewise awarded to some sports activities in schools. Good thing that trophies online became available these days that keep organizers easily find these awarding tokens whenever they need them.
Corporate or Business Events
Even an employee deserves an award for a job well done or for his length of employment in the company. Of course, aside from the remuneration, recognition and acknowledgment of the people behind the success of a company is also a requirement. This way, you can motivate or boost the morale of your employees. Thus, many trophies store are offering this kind of awards mostly in the form of plaques.
Organization Events
When we speak of organization events, it would mean or pertain to government agencies, hospitals or non-government organizations, and more. Definitely, even those people deserve recognition for great service
Social Affiliations
Those who have won in a chess tournament, beauty pageant, talent contents and the like can take home trophy awards along with other cash prize or gift certificates.
The above-mentioned are just few of the events when trophies and other forms of award objects are used for. Hence, they are not mainly used for sports events. However, now that there are existing tools and innovative machines of how to create these trophies, the style and designs are likewise varied. Hence, with these modern equipments of making them, production of trophies, medals, cups, and more became faster. Trophies store can now dispatch bulk orders in less than a week.